Saturday, February 18, 2023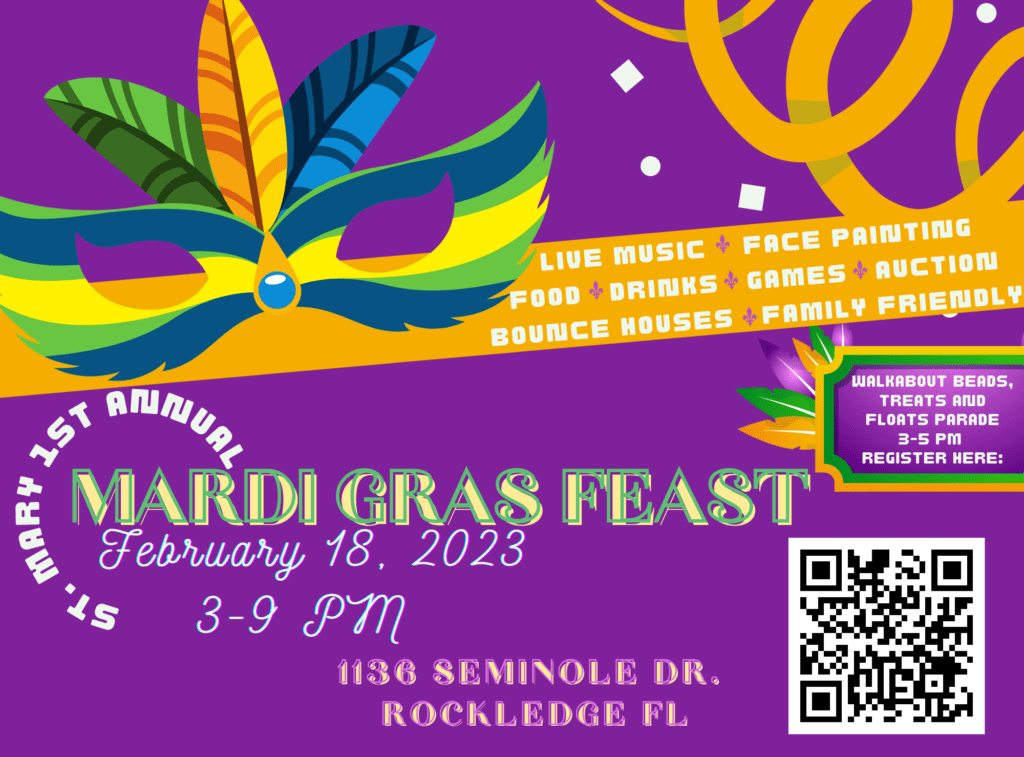 For more information contact Julie Kellgren at events@stmaryrockledge.org.
WALKABOUT PARADE
What is a Mardi Gras Walkabout Parade you might ask? It is like a Trunk or Treat, but Mardi Gras themed! Have fun handing out beads and candy to kiddos at a family-friendly and safe Mardi Gras Festival! Click below for more information on how you can participate!
SPONSORS
Don't miss this opportunity to be a part of this exciting community event that will have activities for children of all ages. This community event will include live music, family friendly Mardi Gras fun, international foods and gumbo of course!
Legacy Sponsor
Kellgren Family
Keltec
Our Lady of Fatima Sponsor
Waggener Dentistry ***
*** Signs of Success contributors
Queen of Heaven Sponsor
Valderrama Orthodontics ***
Schroeck Veterinary Care ***
Matthew Haag Realtor ***
Superior Skilled Trade ***
Eleven18 Architecture
Tactical Elite Security Solutions
Leinbach Family
Lombardi Family
FACE PAINTING
The amazing artist, Father Juan is offering timeslots to have your face painted for our Mardi Gras before the event begins with a minimum bid of $25!! These will be custom designs that Father Juan will create with you. There are only six – 20 minute time slots available.